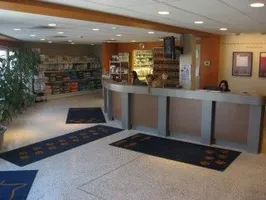 Reception

We are happy to help with your pet care needs - book an appointment, answer your questions and make you feel at home.
Our hospital is stocked with a substantial quantity of over-the-counter products that we believe are ideal for your pet. This includes specialized shampoos, dental products, nutritional supplements, treats, ear cleaners, hairball remedies and more.
---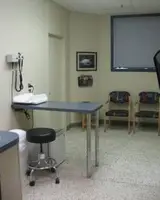 Examination Rooms

We have 4 rooms available for examinations and consultations, most simple procedures can be performed here.
Following a thorough examination, the veterinarian will provide a diagnosis or formulate a diagnostic plan in order to address the concern effectively.
---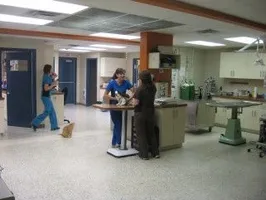 Treatment Area

This is our main workspace where pets receive the medical attention applicable to their individual needs. A portion of this space is used for the induction of anesthetic agents and preparation for surgery.
---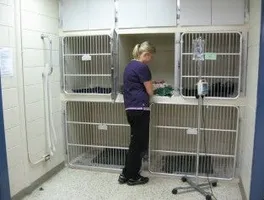 Observation

The surgical recovery/observation kennels are located in our main treatment area. This allows us to watch over patients that have just undergone a surgical procedure or are recuperating from an illness that requires our close attention.
---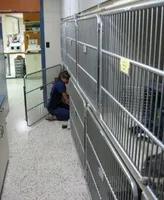 Kennel Area

We have dedicated 'non-contagious' kennel rooms, used for hospitalized patients who have undergone a variety of procedures.
For the safety of all hospitalized pets, our patients must have a recent physical examination and vaccinations prior to being admitted to this area.
Cats and dogs are housed in separate kennel areas.
---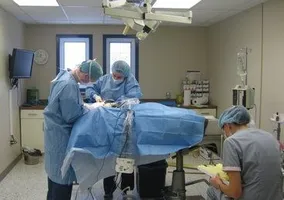 Surgery

Routine soft-tissue surgeries such as neuters and spays, as well as more complicated surgeries including splenectomies, tumour removals, and cystotomies are performed here.
We administer the safest anesthetic agents and patients are continually monitored by our fully-trained technical staff. Intravenous fluids are administered in order to maintain adequate blood pressure and provide proper hydration. A supplemental heat source is used to maintain body temperature (Hot Dog veterinary warming system). In addition to body temperature, your pet's blood pressure, CO2, oxygen saturation, heart rate and ECG are recorded during surgery. Vital signs continue to be documented throughout the post-surgical recovery process.
Clients will be notified with an update on their pet's condition following the procedure.
Additional information may found on ourServices page.
---
Ultrasound a high-tech instrument that uses high frequency sound waves and their echoes in order to diagnose illness or injury, particularly in the chest and abdomen. It is non-invasive and extremely safe.
Dr. Philipp Schott has the largest ultrasound referral practice in Manitoba as he is trained and experienced in some of the more specialized applications for ultrasound. To date he has performed over 12,000 ultrasound studies.
Electrocardiography is also conducted here. Electrocardiography is the recording of cardiac electrical activity and is used in the analysis of cardiac arrhythmias.
---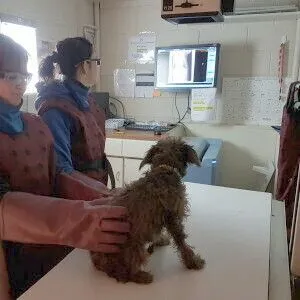 Radiology
The quality of X-Rays we produce enables the doctors to effectively interpret and make concise recommendations. Our digital X-Ray processor allows us to develop our films quickly and with excellent quality.
---
Laboratory

In our lab we use an Idexx blood analyzer, centrifuge and microscope for routine analysis. Many non-routine samples are sent to our provincial lab (Veterinary Diagnostic Services at the University of Manitoba) or to Histovet Surgical Pathology.
Exclusive to veterinary practitioners, Histovet Surgical Pathology offers rapid diagnostic histopathology and cytology with a particular emphasis on dermatopathology, oncology, ophthalmology, and endoscopic biopsies. You will be provided accurate, concise, literate and useful interpretation of disease processes in animal tissue as detected in surgical biopsy and cytology samples.
---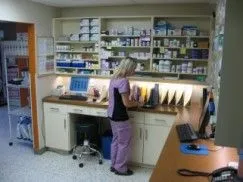 Pharmacy

We can dispense most of the medications that your pet needs. If we do not have a medication your pet requires, we may be able to order it for you.
---