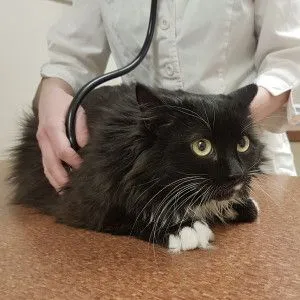 Physical Examination

Annual physical examinations are recommended as changes to your pet's health can occur rapidly. Since the aging process in pets occurs at an increased pace compared to humans, these annual visits are important for disease prevention and early detection.
A physical examination appointment includes a comprehensive assessment of:
current weight
overall body condition
skin and hair coat
abdomen
ears
eyes
urinary system

rectum
nose and throat
lymph nodes
mouth, teeth and gums
legs, paws and spine
heart and lungs
nervous system
A discussion of your pet's recent physical, behavioural and nutritional history reveals further insight. Evaluations and recommendations are provided in written form for your personal records.
Pets having been assessed and determined to be in good health may receive vaccination for potential contagious disease. The vaccine required may vary depending upon your pet's history, age and exposure.
Vaccinations
Modern vaccines are effective, safe and painless preventatives for many serious diseases. It is through vaccination that we have made many once common deadly diseases rare, but experience shows that they will return if we let our guard down. Birchwood offers flexible vaccination protocols tailored to your pet's individual risk. Depending on the previous vaccine history, rabies, distemper (both feline and canine) and parvo vaccines may only need to be given every three years. Talk to us about what is best for your pet!
P
lease retain a copy of the Vaccination and Health Certificate issued by our veterinarians at the time of your pet's physical examination. This provides proof of your pet's health status and most recent vaccinations. You may require this document when traveling, boarding or for various pet-related activities. It is often handy to keep an extra current copy in your vehicle.